Show me your selfie. Why did you show me this one?
An investigation of the State of the Selfie. All states, close to 50 States.
State of the Selfie
An Unfolding Archive
If you showed me a photo of you / what would it say about us?
If I took a train to find you / what would you show me on your phone? 
If I travelled close to 50 States / would I find all states of you?
Show me a selfie on your phone. Why did you show me this one? 

Photos here were taken in Ashland, Oregon when I lived there, on Amtrak's Coast Starlight from Portland to my friend April's wedding in LA, and some were taken in LA.  The photos here are my first pass at this project. My goal is to have 3 books of this project State of the Selfie–West Coast (Coast Starlight), State of the Selfie–MidWest (Empire Builder), and State of the Selfie–East Coast (Silver Service / Palmetto). I'll take the Amtrak train for each parts of the country, and also get off the train as well.
People followed up via email and here's another selfie.
People into sending me the original selfie.
People becoming FB friends, people texting. 
We intersect, and then we become woven.
Contact:
robin@stateoftheselfie.com or
masssocial@gmail.com or
on social media
About - State of Mind
Here's How I Arrived Here
I'm a digital artist living in Portland, OR. I find people fascinating, liars, true, subterranean.
What is State of the Selfie?
State of the Selfie is a research project that teases the selfie out of the smartphone and brings it into the real world via a one-on-one exchange with a stranger—a person on the Amtrak train or someone in the city.
State of the Selfie intercepts the phone and a person's digital archive or feed to discover the story behind the selfie in the real world.
The Call For Human Connection
It's an invitation for people to reflect upon and consider their image, and in doing so, this project reclaims human-to-human connection in context of online culture and the act of self-portraiture. Me: audience and aggregator. Us: collaborators.
Every Selfie Has A Story
The Selfie is so much more than a narcissistic expression.
It's a reveal of people tracking their life, marking time, constructing a narrative. And everything about us is here: relationships, personas, collusions, truths.
This project investigates and archives this major cultural event.
SOS: A Reveal of Consciousness 
Here is an unfolding archive.
Selfies are documents of our compulsion to record, to construct, to transmit. Transmit something. The evidence of us. The collective something. Records. Histories-to-date. Data.
After one snap or many, we submit our photos to a digital stream of consciousness we believe in/ groupings of people we've opted in to: FB, instagram, et al.  Or we may keep the selfie private.
Levels: The Act of Curation
The selfie they choose to show me tells as much about who they are, as about who we are together.
What they say about their selfie may be another story or narrative; a reveal of perception.
When I take a photograph of their selfie, their beingness and the ephemera that surrounds them (that which they carry) is splayed.
And the portrait I take of them, when they're unencumbered of their phone, or emancipated from the act of authorship, just might say something else.
Old and New Technologies
A wide cross-section of humanity: chance encounters with strangers in the city or from sleeper car to coach on the Amtrak train. Riding the train is an in-between time. We may reflect on life, moving from point A to point B. The train, so old, the phone something new. Both technologies have transformed the way we experience the world, and each other.
Beauty and Thanks
I feel grateful for this moment because this project truly captures everything that I am about and everything I stand for as an artist and even a human on earth. Yes, an investigation of consciousness and human connection.I feel so grateful for people who said yes to share. Because they are beautiful, in every capacity.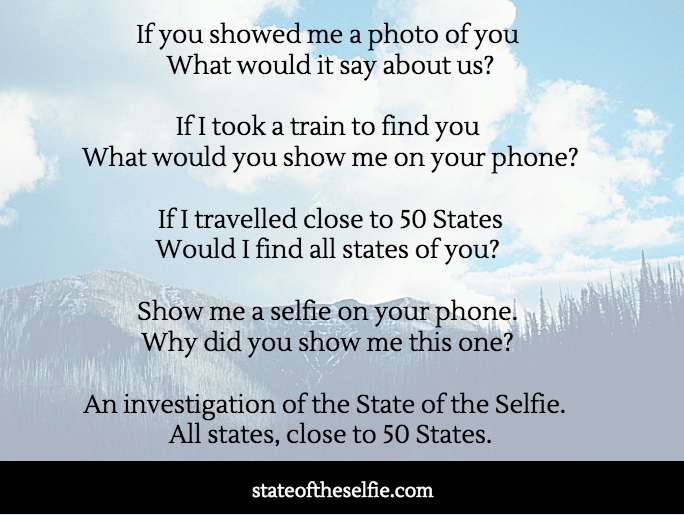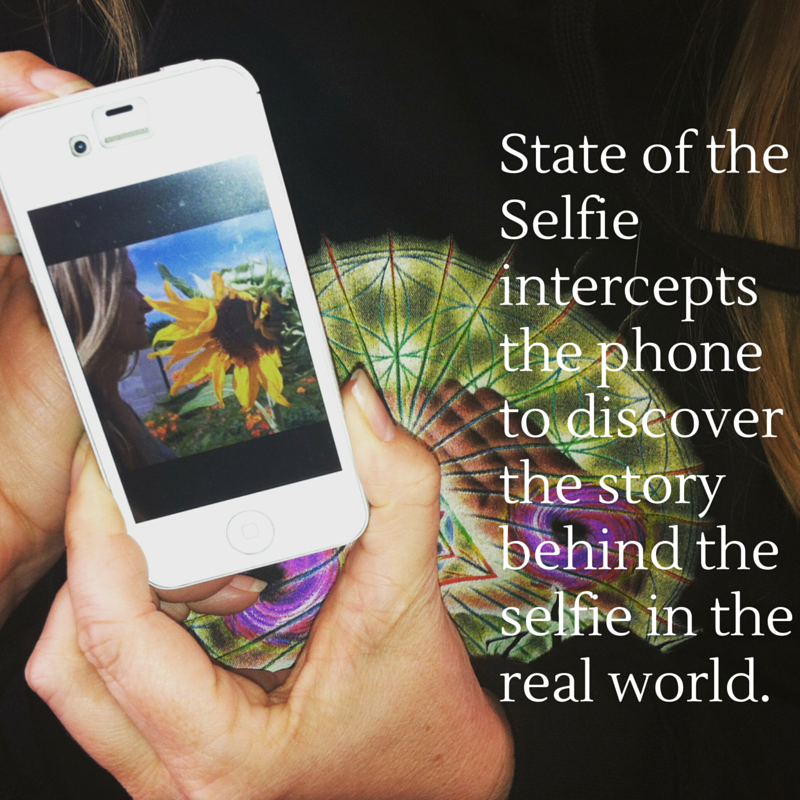 ---
Robin Dicker is a Pacific Northwest based artist who works in photography, performance and video. She received an MFA from California Institute of the Arts and has been awarded two residencies at at Ragdale Colony in Lake Forest, IL. A selection of Dicker's work can be experienced here: on i heart photograph, part of "The Lament Project" on ViralNet.net curated by Tom Leeser, Director of Integrated Media/ CalArts. & a song on Maile Colbert's record For (07 Golden Chariot Bore Me Away, With Robin Dicker, For Being True) on Intransitive Records. 
 Artist Website & Marketing Website